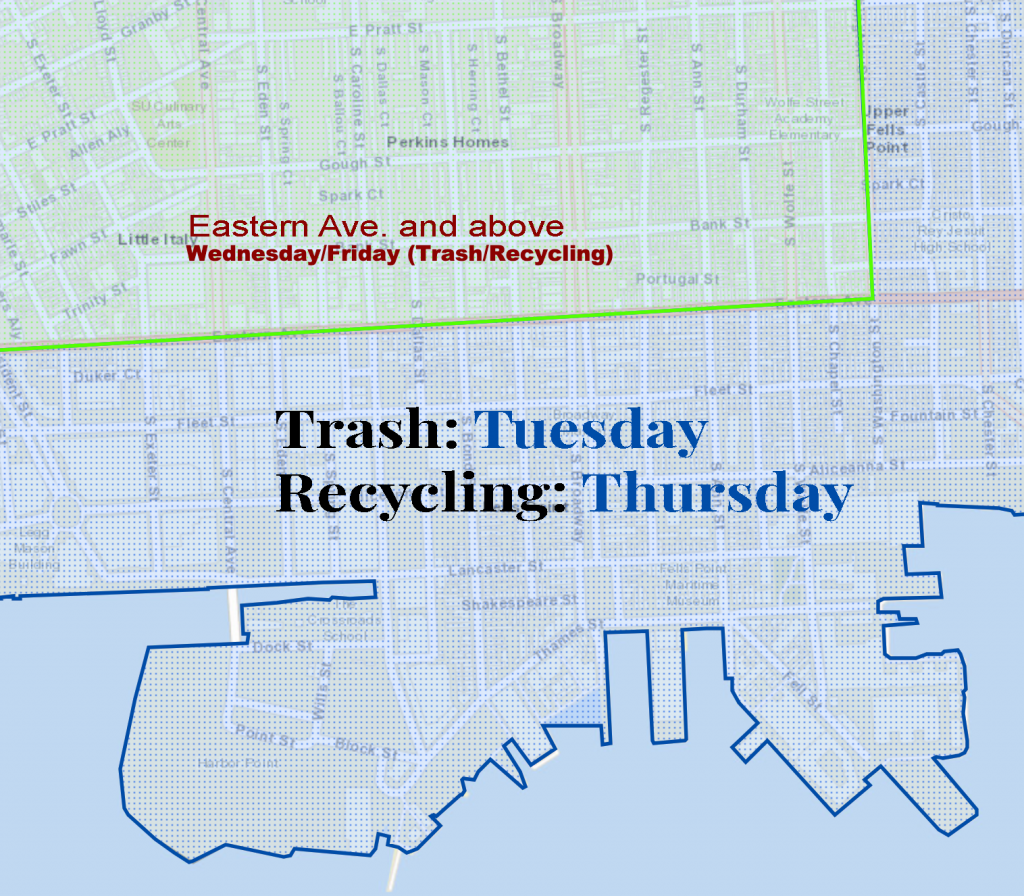 The majority of Fell's Point residents have:
Trash pickup every Tuesday
Recycling every Thursday
If you missed your trash or recycling day, you can dispose of items at one of the Citizen Drop-Off Centers, the closest of which is located at 2840 Sisson Street.
Please put your trash and recycling near the curb no earlier than 6PM the night before collection and retrieve them in a timely fashion.
Trash Pickup:
If possible, use the green trashcans provided by the city, which deter rodents, prevent litter, and reduce strain on workers.
To obtain or replace a city trashcan, call 311
Other trashcans may be used, but all homes have a limit of 96 gallons of trash pickup per week
Recycling Pickup: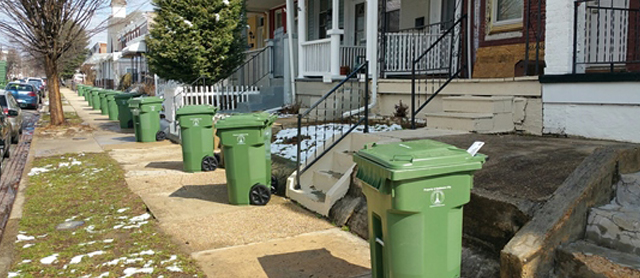 Do NOT put your recycling in plastic bags!
Use any container you want (just not plastic bags)
There is no limit to how much you can recycle
If recycling day falls on a holiday, there will be a makeup day (usually the following Saturday)
Things you CANNOT recycle:
Soiled recyclables
Polystyrene (Styrofoam) of any type
Plastic bags
Clamshell containers (e.g. deli or salad bar containers, to go food boxes, berry containers)
Plastic film of any type (e.g. 6 pack rings, case wrap, dry cleaning bags, food storage bags)
Plastic cutlery and straws
Potato chip and snack bags, candy wrappers
Take-out food containers
Non-packaging plastic (e.g. toys, toothbrushes, pens)
Paper towels, toilet paper or tissue paper
Wax or parchment paper
Non-packaging glass (window and mirror)
Cords, hoses, string and other "tanglers"
Compostable materials or yard waste
Trash such as cigarette butts, diapers, food waste, needles, bags with pet waste, etc
Electronics and appliances
Clothing, shoes, and textiles
Cookware
Things you CAN recycle:
Paper:

Office paper (all colors)
Newspaper, magazines and catalogs
Mail (including junk mail, envelopes with windows, flyers, etc.)
Books (including paperbacks, textbooks, and hardbacks)
Brown paper bags
Cardboard and paperboard boxes
Corrugated cardboard
Cardboard egg containers
Non-metallic wrapping paper
Clean pizza boxes (not soiled with grease)
Food and beverage cartons (e.g. milk, juice, or stock)
Shredded paper (contained in paper bag or cardboard box)

Plastic:

Plastic bottles (e.g. water and soda)
Plastic jugs such as milk (other than for motor oil, pesticides, and herbicides)
Plastic jars (e.g. peanut butter)
Plastic tubs (e.g. sour cream or yogurt)
Prescription bottles (including caps)

Metal:

Aluminum cans
Metal food or beverage containers
Clean aluminum foil/ foil pans
Empty aerosol cans

Glass:

Glass bottles and jars (all colors) lids may be left on
For recycling of hazardous materials, electronics, and more, see the Baltimore City Public Works page on Recycling Services.