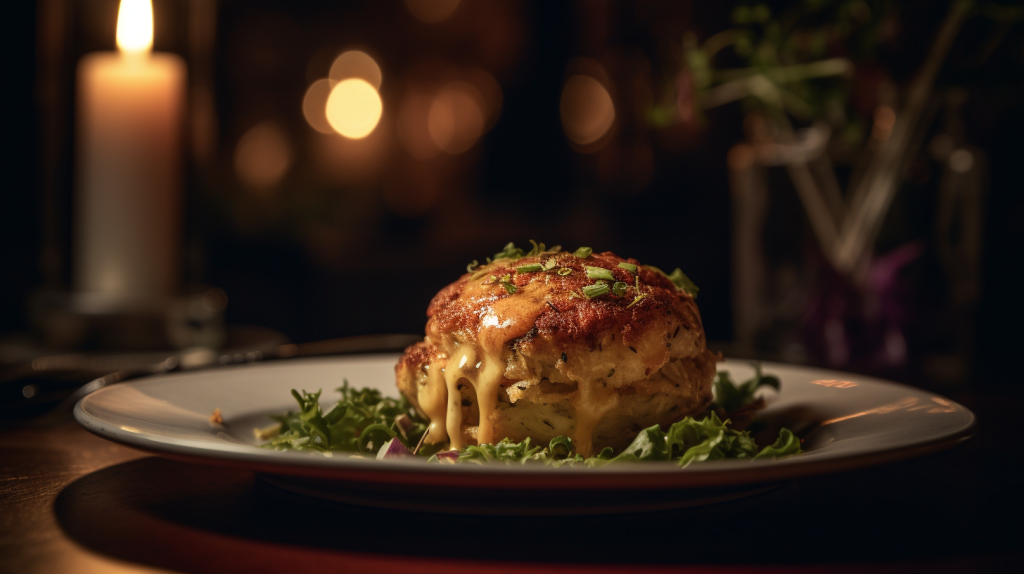 Every good Baltimore Bucket List has "Eating a Crabcake" near the top of the list, but when it comes time to unlock that achievement, where should you go? That's a loaded question for Marylanders, sparking endless debate about taste and tradition on all your favorite social media platforms.
We asked ChatGPT to settle the debate once and for all by ranking the best restaurants to get a crabcake in Baltimore… here is what it had to say.
Hello, shell-o, fellow foodies and crustacean enthusiasts! This one's for you: an all-you-can-eat extravaganza of wordy delights focusing on a very special Maryland delicacy. So grab your bib, crack open your appetite, and let's get cracking on our journey to find the best crabcakes in Baltimore, Maryland, or as I like to call it, the "Shell State".
No need for a pinch, you're not dreaming. We're really about to embark on a gastronomic expedition to the heart of the Old Line State. If you're a fan of bountiful Baltimore, then you know the city's unofficial mantra: "Life is great in the crab state."
Now, let's go crustacean-hunting, my friends! Here are the 10 best places to get your pincers on a Baltimore crabcake:
With a legacy spanning over a century, Faidley's takes the cake for having the best crabcake in Baltimore. Their award-winning jumbo lump crabcakes, handcrafted daily, are a delightful mix of flaky crab meat and perfectly seasoned breading.
Located in Parkville, Pappas' crabcakes are a labour of love, made with colossal lumps of Maryland blue crab. Each bite will leave you shell-shocked and wanting more.
Koco's crabcakes are renowned city-wide for their incredible size and consistent quality. They serve their crabcakes sizzling from the kitchen, right onto your table.
A tribute to local Chesapeake cuisine, Gertrude's offers a wonderful dining experience with its Crab Imperial-stuffed crabcake. It's a true testament to Maryland culinary tradition.
A bit of a drive from downtown Baltimore, but the journey is well worth it. The crabcakes are generously sized, with huge lumps of sweet crab meat.
This spot in historic Fell's Point serves up their crabcakes with a classic, no-fuss approach. They let the fresh, sweet meat of the Maryland blue crab shine through.
This high-end steakhouse also excels in seafood. Their lump crabcake, paired with a tangy tartar sauce, is a delectable feast for your taste buds.
As the name implies, Jimmy's Famous Seafood is famous for one thing: its hearty, delicious crabcakes. This family-run business does it right.
A Baltimore staple since 1971, Costas Inn has its own unique take on crabcakes, keeping the tradition alive and customers coming back for more.
Completing our top 10 is Phillips Seafood, a Baltimore icon. Their lump crabcakes, seasoned with a secret family recipe, are a delightful finale to our crustacean compilation.
Maryland Does Crabs
The tradition of crabcake preparation in Baltimore is as rich as the succulent filling of these savoury cakes themselves. It's an age-old art that has found its home in the heart of every Baltimorean, passed down through generations like a well-kept family secret.
Baltimore's history is steeped in crabbing. For centuries, the bounty of the Chesapeake Bay has fed and economically sustained the city and the state. Maryland is renowned worldwide for its blue crabs, harvested from the miles of bay shoreline. The crabbing industry here is so vibrant and intrinsic to the region's identity that it's often said: "Maryland does crabs."
On your visit, you may even chance upon an old crabber in the Inner Harbor, casting out his trotline, maintaining a tradition of the watermen that goes back to the colonial era. Or perhaps you'll visit during the annual Hard Crab Derby in Crisfield, where blue crabs literally race for their lives in an event as quirky and unique as Maryland itself.
And when you come back… we'll invite you to a cookout with steamed crabs on the menu.
The Bottom Line
For the ultimate crabcake experience in Baltimore, it's hard to beat Faidley Seafood. Their historic market location and timeless recipe make for an unparalleled crabcake pilgrimage. However, Baltimore's crab cake scene has something for everyone. For family-friendly vibes, make a beeline for Jimmy's Famous Seafood, where you can feast on their hearty crabcakes and create lasting memories. If you're pinching pennies, head over to Costas Inn for quality crabcakes that won't break the bank. Looking to add a little romance to your crustacean exploration? There's no better place than The Capital Grille, where high-end dining meets classic Maryland cuisine. And remember, no matter where you go in Baltimore, you're sure to find a crabcake that will claw its way into your heart.
So, there you have it, folks! The "10 Best Crabcakes in Baltimore [Picked By ChatGPT]". The next time you find yourself in the "Charm City," don't just tip-toe around the bay—dive into these delicious, succulent crabcakes. It'll be love at first bite, crab-solutely guaranteed.