The story of Fell's Point begins with the tale of two brothers: Edward Fell who first landed near "Baltimore Town" in 1726, and his brother, William Fell, who followed shortly thereafter in 1730.
The Founders of Fell's Point (1726)
The brothers arrived in a time marked by speculative land sales, where vast swaths of open land were divided and sold to rich settlers and investors. They acquired 3,000 acres of land in what is now Fell's Point.
With the Patapsco River's deepest water, close proximity to the Chesapeake Bay, and favorable access to extensive tracts of timber, the land was ideal for shipbuilding. And they did, erecting the region's first shipyard and establishing Fell's Point's roots as a maritime hub.
In its first few decades, Fell's Point resembled the illustration below: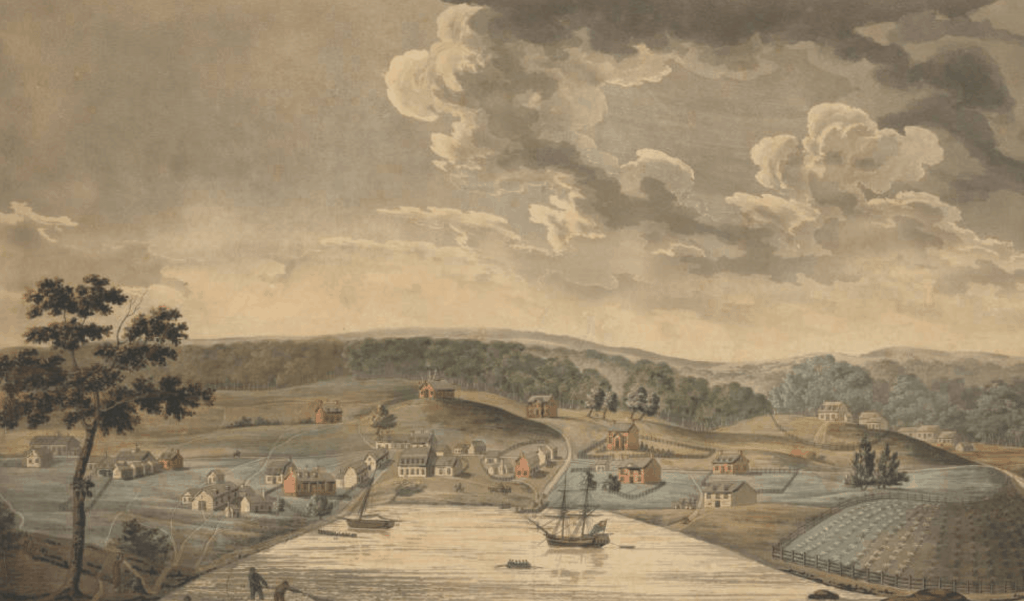 This is actually a 1752 illustration of nearby Baltimore Town, known today as Baltimore's Inner Harbor, but reflects the time period, landscape, and similar population.
The Streets Get Named (1761)
The riches of the Fell family were eventually passed onto William's only son, also named Edward Fell (after William's brother). Young Edward and his wife, Ann Bond Fell, proactively developed the land in 1761, creating a grid of streets and selling sub-divided plots along them to the general public.
The street names were largely inspired by two common themes: family and British heritage. Many of these streets still have their original name, including:
Ann Street
Bond Street
Fell Street
Thames Street
Shakespeare Street
Unfortunately, Edward died two years later in 1763 at the age of 30, leaving his wife – Ann Bond Fell – in control of the family business.
Fell's Point joins Baltimore (1773)
In 1773 Fell's Point was annexed into Baltimore, joining Baltimore Town and Jonestown as the pillars of city, just before the start of the American Revolutionary War.
The city conducted a 1776 census as the war got underway and the recorded population of Fell's Point was still only 821 people, including:
222 white freemen
187 women
28 boys
138 girls
51 men servants
15 women servants
6 boy servants
2 girl servants
23 male slaves
14 female slaves
15 boy slaves
13 girl slaves
3 free black males
4 free black females
By comparison, the population of all of Baltimore was 6,000 and New York City and Philadelphia each held 21,000 and 28,000 people, respectively.
The United States of America (1776)
Fell's Point had already become an essential hub for trade in the region, but the American Revolutionary War would greatly accelerate the area's growth. No battles were fought in the Fell's Point area, but the territory served a huge role in securing America's independence.
As explained by Gary Lawson Brown in Baltimore in the Nation, Fell's Point became a central trading depot for American forces during the Revolutionary War. The shipyards in Fell's Point were known for building fast boats that could serve as blockade runners, helping the United States maintain essential trade routes with the West Indies during the war.
Baltimore's Primary Hub (1800)
As the population grew, more and more goods on larger and larger ships traveled up and down the Patapsco River. Due to the shallow basin of the Inner Harbor (then Baltimore Town), Fell's Point was the furthest these merchant ships could travel. They'd need to either:
Anchor in the bay and have lighter boats make numerous trips to offload cargo, or
Dock in Fell's Point and have the cargo shipped into downtown Baltimore by land
Many did the latter and Fell's Point prospered as a result. A published account of Fell's Point in 1783 by Johann David Schoepf claims that seeing 50 vessels at a time in Fell's Point wasn't uncommon. In 1784 the Broadway Market was built as a hub to accommodate the bustling local commerce (it still exists today).
The population of the Baltimore area continued to grow, jumping from 13,000 in 1790 to more than 28,000 in 1800, with Fell's Point becoming part of the newly incorporated "City of Baltimore" along the way (1797).
Sailors & Shipbuilders (1810)
As a waterfront town playing temporary home to sailors (and their crews) from across the world, Fell's Point catered to its visitors and thus developed quite the reputation. John Davis, an Englishman, wrote of Fells Point in the early 1800s:
"It is a place remarkable for its commerce of various kinds; for here ships land their cargos, and here their crews wait not even for the twilight to fly to the polluted arms of the white, the black and the yellow harlot."
For those wondering: a harlot is a prostitute. Fell's Point had more than its fair share of pubs and prostitution houses, offering rest, relaxation, and excitement for sailors who had spent days and weeks on the water.
Meanwhile, shipbuilders in Fell's Point had developed a reputation for being expert craftsmen best known for building topsail schooners (locally described as Baltimore clippers). The boats were fast, nimble, and became a valuable asset in the War of 1812.
The War of 1812
Americans found themselves in a tough position between Great Britain and France, two countries at war with each other, each seeking to prevent their enemy from trading with the United States. But Great Britain committed two ongoing transgressions that forced the hands of American lawmakers:
In addition to blocking trade with France, Great Britain would remove seamen from US merchant vessels and force them to serve for the British Royal Navy in a practice called impressment.
During U.S. Westward expansion, Great Britain armed and aided Native American aggression against the United States
On June 18, 1812, U.S. President James Madison declared war on Great Britain, first attacking Canada (then a British colony).
Fell's Point Privateers (1812-14)
Great Britain had the world's most powerful navy, so President Madison asked Americans to take matters into their own hands, authorizing civilians to capture enemy ships. In return, they'd become rightful owner of everything onboard. These Government sanctioned pirates were formally called Privateers through letters of marque.
As one of America's premiere shipbuilding communities, Fell's Point found itself in an opportune position. They churned out long, light, and nimble ships the likes of which the world had never seen. The ships could both: (1) easily evade British trade blockades, and (2) surround and capture British transport vessels.
Over 500 British ships were captured by civilian Privateers during the War of 1812, due largely in part to shipbuilders and sailors from Fell's Point.
This really pissed off Great Britain, and when their war with France ended in 1814, they set their sights squarely on destroying America- with a keen eye on Fell's Point.
The Star Spangled Banner (1814)
British forces immediately stormed America's capital, capturing Washington DC on August 24, 1814, and burning down both the US Capitol and the White House. Their next targets were New York and Baltimore.
First it was New York that held off the British (September 11th, 1814). Two days later, Baltimore's Fort McHenry withstood 25 hours of bombardment by the Royal Navy.
The next morning, Fort McHenry's soldiers hoisted an American Flag, delighting Francis Scott Key who penned The Star Spangled Banner in honor of the spectacle. It would eventually become the National Anthem.
The failure to overtake Baltimore devastated Britain and they soon began negotiating a treaty. On December 24th, 1814, the Treaty of Ghent was signed, ending the war between the United States and Great Britain.
National Recognition (1840)
Fell's Point's continued to enjoy its reputation as one of America's premiere shipbuilding ports well after the golden era of wartime shipbuilding ended.
From 1790 to 1840, Fell's Point produced 10% of the ships in the entire country. Among the most famous of ships produced in Fell's Point:
The most notable Fell's Point ship builder was Thomas Kemp, yet his fame was far surpassed by a Fell's Point slave who once worked for the local shipbuilders during that same period- Frederick Douglass.
The Big Steam Shift (1850 – 1900)
Fell's Point helped pioneer the American shipbuilding industry for 200 years, but the masted sailing vessels that made it famous would soon fall out of favor, replaced by steam powered ships.
For awhile, Henderson's Wharf in Fell's Point was the 2nd largest port of entry for immigrants in the entire United States, but that would soon change. The industry slowly shifted to nearby Locust Point, where the water was deeper and able to handle the growing size of ships.
Fell's Point's shipyards were soon replaced with packing houses and canneries.
The Great Baltimore Fire (1904)
In 1904 it took 1,200+ firefighters 2+ days to extinguish a devastating fire that destroyed 1,500 buildings across 140 acres in Baltimore.
Washington DC and Philadelphia sent backup firetrucks, but their efforts were futile: their fire hoses couldn't fit the hose couplings of Baltimore's hydrants. The United States government would pursue standardization of the national fire code in the Great Baltimore Fire's aftermath.
The damage from The Great Baltimore Fire was considerable: $150M of damage (in 1904 USD) and 35,000 people left unemployed. Miraculously, only a handful of casualties occurred (although none were officially recorded).
Fell's Point was completely unscathed by the disaster, making its historic properties some of the oldest original surviving buildings in Baltimore.
History Preserved (1969)
The next big threat facing Fell's Point seems less ominous than foreign invading powers or natural disasters of catastrophic proportions, but threaten it did.
Many of the manufacturing plants and warehouses were shuttering in Fell's Point, creating a void of jobs and leaving a large number of buildings vacant. City planners proposed building a raised highway through the community, demolishing everything in its path.
The plan was met with strong community opposition, led by then social worker Barbara Mikulski, who would eventually become the longest serving female Senator in the history of the United States.
While developers saw Fell's Point as a quicker way of getting from Point A to Point B, Mikulski and her fellow revolters petitioned to put Fell's Point on the National Register of Historic Places as a Historic District.
They were successful, not only in winning that Historic District designation in 1969, but in saving Fell's Point in the process. Now that Fell's Point was officially recognized as a national treasure, federal funds could not legally be allocated to a road project that would cause its destruction. The highway project was subsequently abandoned and Fell's Point was saved.
Modern Times (1970+)
For the last 50 years, Fell's Point has experienced an influx of middle to upper-middle class residents attracted to the neighborhood's waterfront beauty and rich history.
Although the shipbuilding and manufacturing industries are no longer active in the neighborhood, Fell's Point has retained the personality and entertainment culture it developed early on. Per square foot, Fell's Point contains the highest concentration of pubs, bars, and restaurants in the United States, undoubtedly resembling the crazy charm of centuries past, where shipbuilders raised families and sailors raised hell.
Before the beginning
What was Fell's Point before the Fell brothers arrived?
The property that Edward Fell and William Fell originally settled was part of the Province of Maryland, technically "owned" by the British Crown (despite Native American presence) and awarded to George Calvert for the purpose of colonization in the 1600s.
Calvert – a Roman Catholic – founded the Maryland colony on the basis of religious freedom, but a new King and the Protestant uprising threatened his family's reign. In 1689 the family, due to their unwavering Catholicism, were stripped of all authority (but not their territory). The family would regain rule in 1715, but only after converting to Anglicanism and appealing to the King and the Church of England.
By the time Edward and William Fell arrived, large swaths of land had been granted to people in high places and with large sums of money. Two of these men were David Jones and Thomas Cole. After David Jones bought Thomas Cole's 550 acres in 1679 he had his stepson, James Todd, survey the land. It was renamed from Cole's Harbor to Todd's range and then sold off in progressively smaller parcels. It is one of these parcels that was acquired by Edward and William Fell.