As Fell's Point residents prepare for a "new normal", Governor Hogan and Mayor Young have made it clear that outdoor seating for restaurants will be a key part of the phased re-opening plan.
For a community lined with restaurants, bars, and pubs, there is an underlying hope that a more comprehensive plan will be developed. A plan that would close the streets to vehicles and make Thames Street & Broadway a pedestrian only corridor. And maybe, just maybe, this plan could become permanent if all goes well.
Today we saw the plan in its first iteration – devised by Bryce Turner of BCT Architect, Ron Furman of Max's Taphouse, and many other community members – presented to Fell's Point Main Street.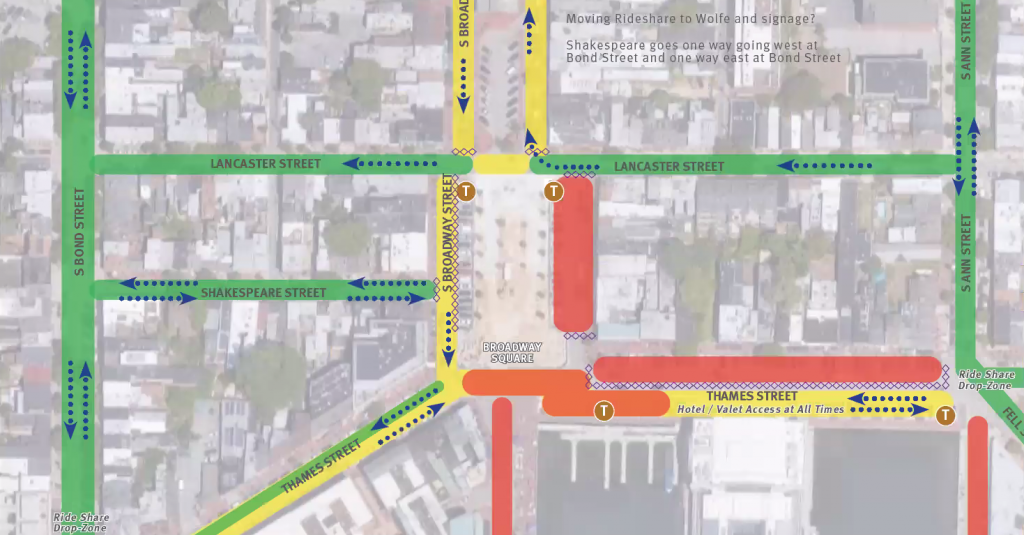 In the above image:
Red and orange streets are closed to vehicles
Yellow streets are closed after 4PM with local traffic permitted (ex: homeowners, delivery trucks, etc)
Green streets to continue as normal
"T" marks sanitation stations (some with restrooms)
Seating would be communal: tables and chairs would not belong to any single restaurant but instead serve as seating for paying customers of any restaurant. These tables and chairs would would be placed in Broadway Square, in former parking spots along Broadway, and on the north side of Thames Street.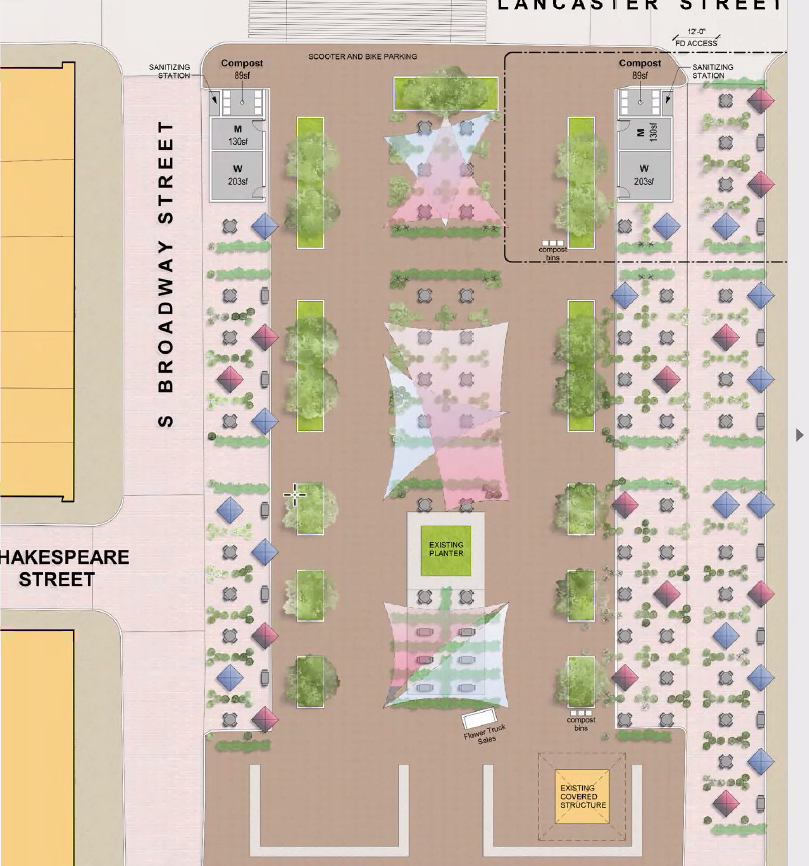 It was unclear what sanitation procedures would be in place for table turnovers but it's clear that a governing body of some sort will be required to coordinate and finance the logistics.
The plan builds on the Fell's Point Al Fresco concept from 2019 where individual blocks were shut down on select nights for restaurant seating. It was incredibly well received and if implemented, the new plan – dubbed "Fell's Forward" – would expand the European piazza feel of Fell's Point, providing an open and airy atmosphere that can be enjoyed by visitors while helping businesses survive and maintaining social distance.
Although tables for restaurants/bars are the highlight of the plan, it was acknowledged that retailers and other business types would need support as well. The more diversity and socially distanced activities the better but the initial focus on restaurant seating makes sense.
The challenges are many, fueled in part by adult-beverage take away drinkers of recent weeks. These concerns are exacerbated by a thinned out police force who haven't currently the time or attention to focus on Fell's Point specifically. That's likely to change over the next several weeks as the Fell's Forward plan develops.
Concerns raised in the conference call were largely related to traffic patterns and parking. The changes will be jarring at first and affect some more directly than others but the organizers urged a "change is necessary" approach- any step is a step in the right direction and details can be ironed out and improved over time.
What do you think about this plan? What are your biggest concerns? Do you have any unique ideas that could be considered!